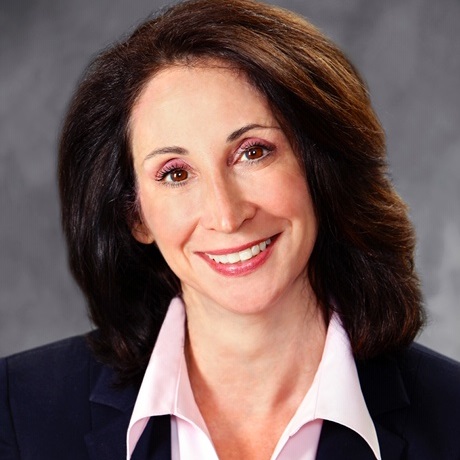 Litigation Attorney
Alexis Smith Hamdan
Alexis Smith Hamdan was retained by Tempus Fugit in 2019 to assist on a case as a consultant and stayed on because of the firm's unparalleled commitment to its clients. Alexis, a native New Yorker, graduated from Fordham School of Law in 1990, and began her career at Skadden Arps in New York. After moving to Boston she joined the firm of Warner & Stackpole where she was elevated to partner, and continued on after the firm merged with Kirkpatrick & Lockhart. Taking a break from firm life, Ms. Hamdan clerked for the Federal Court in Boston for several years. She has taught legal research and writing, and created the client counseling course for Boston University School of Law. For the last 12 years she has also served as the program developer, and legal research and writing instruction for the Federal Court's Lindsay Fellowship Program.
Media Coverage
District Court Gives Students Insider's View of the Judiciary, Careers in Law – From United States Courts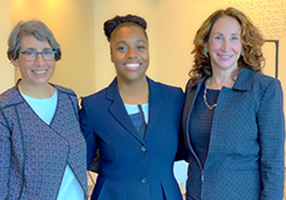 Excerpt: Sturdivant recently began teaching the rigorous research and writing course for the Lindsay fellows during the summer. Attorney Alexis Smith Hamdan, who developed and taught the course for 12 years, said, "It was always my hope that I would be able to pass the torch to one of our fellows. Taisha has all of the attributes necessary to teach this rigorous program, so I was elated when she expressed her willingness to take on this important role."
Click here to read the full article
Client Reviews
"Alexis is positively brilliant. She exhibits great skill and knowledge to bring her clients excellent legal experience, creativity, and business acumen. Beyond that Alexis brings a tireless approach everything she does and a refreshing friendly and direct communication style.
Her professional approach is only outweighed by her sincere willingness to determinedly "do whatever it takes" to advocate for her clients, all while ensuring that they completely understand every step of every stage of a matter, or to put it more plainly educating them during the process.
Having worked with many attorneys in the past, it is easy to say that her attention to detail is unmatched and her research and meticulousness is exhaustive. She know what it takes to support her clients to make sound business decisions and her responsiveness is truly impressive. Overall, Alexis is a valued business partner and trusted advisor who of the highest caliber and an absolute joy to work with."
McCabe – Five-Star Review
"I discovered my business was damaged, and was not sure where to turn to or what legal remedies if any were possible. I turned to Tempus Fugit, and after a brief interview of my situation, I was told I had a case. A video meeting followed, with Attorneys Schipani and Hamdan, the key points were gathered and they quickly put together a course of action. I was hand-held and assured through the entire process, as I had never been in such a predicament before; Attorney Alexis Hamdan consoled me through the entire process as we worked as a team to bring about a quick resolution. I can't thank Alexis enough for her candidness, tenacity and professionalism. I would highly recommend Tempus Fugit."
David H. – Five-Star Review
"Alexis is the best of the best. For the first time, litigation felt stress free and confident. Her knowledge is so valuable to any business owner."
Stephen B. – Five-Star Google Review
"Attorney Hamdan's background in Federal Court came to bear on our case. She worked extraordinarily long hours on our case, burning the midnight oil to meet super tight deadlines weeks on end. She was an outstanding communicator breaking down legal lingo into small bites with real-life examples and analogies. Her broad experience in business law proved to be invaluable as negotiations with the opposing side required creative negotiation skills and out-of-the-box solutions. Attorney Hamdan's uncanny use of legal research and ability to speed-read were critical to the case. Attorney Hamdan looks at the legal settlement of business cases as business transactions. She gave us food for thought to weigh the costs and benefits of every decision we made. Her legal advice was always given from a legal and business perspective while communicating candidly with us and assessing the case realistically each week."
Tami – Five-Star Google Review
"Alexis Hamdan is awesome! She is extremely responsive and goes above and beyond helping me (the client) understand everything. She is always looking for anything she can do to make things easier on the client.
Gil also cares about his clients and keeps a close eye on everything helping wherever he can.
I highly recommend Tempus Fugit!"
Bruno O. – Five-Star Google Review
"I worked with Alexis Hamdan on a past employment matter. Alexis dove right in and provided solid guidance to bring the situation to a swift close. There were times where she challenged my thinking to make me focus on what was really important and not winning every battle, which I needed at the time. Forthright and responsive. This is the 2nd time I have been helped successfully by Tempus Fugit Law."
Joseph Z.– Five-Star Google Review
"Thank you, Tempus Fugit Law for working with my family. We worked with Gil Schipani and Alexis Hamdan, and cannot say enough about the positive experience we had working with them. Now that our legal dispute has been successfully resolved, we want to express sincere appreciation for everything Gil and Alexis have done in bringing about this very positive result for my family. We were extremely impressed not only with their legal and professional skills but with the very pragmatic and personal approach they brought to every one of our calls and emails. Perhaps most importantly, the sense of urgency and responsiveness throughout our engagement was exemplary. We are so thankful we chose Gil and Alexis at Tempus Fugit Law to represent us."
Lindsay G.– Five-Star Google Review
"I hired Alexis, and it's been the best experience ever! I'm not one to leave reviews, but I just had to! The amount of service I received and her compassion – I've never received from any professional, in any industry! I thank Google for getting me to land on her page!"
Jeffrey C.– Five-Star Google Review